Desert Treasure
Official poster Scottsdale 2002
The official 2002 Scottsdale All Arabian Show poster
This edition of 2000 posters is the same size as the original piece, 12" x 16" plus border. Printed on heavy cover stock
with the finish of a soft gloss photo. The bottom border is imprinted with the words "Scottsdale 2002".
The edition was not signed or numbered, however the artist will sign all posters purchased from her.
Because of the glossy finish, this poster can not be remarqued.
$20.00 plus $7.00 shipping in USA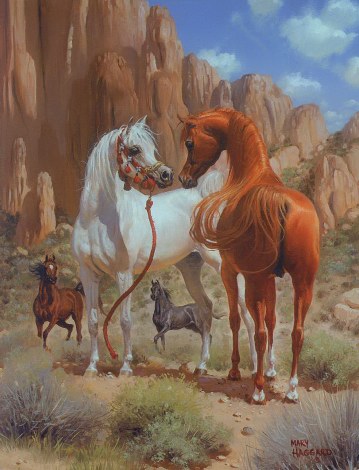 Coming Together
Official poster Scottsdale 2001
The official 2001 Scottsdale All Arabian Show poster.
The white gray mare has escaped her master to meet the handsome chestnut stallion.
An edition of 2000 posters was made from the original 12" x 16" oil painting. This is not a signed and numbered edition, however any poster purchased directly from Mary Haggard, will be signed. The posters are printed on heavy card stock with the finish of a glossy photo.
Image size is 13" x 17" with border.
Because of the special coating this poster
can not be remarqued.
$20.00
plus $7.00 shipping in USA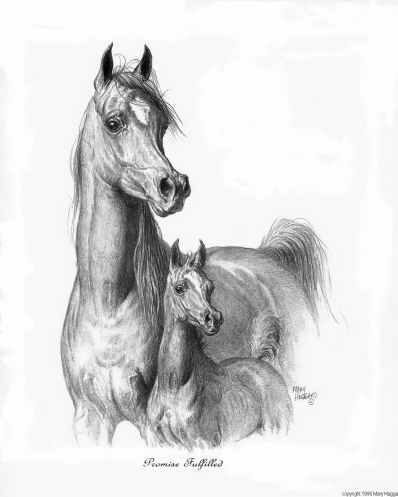 Promise Fulfilled
After many months of planning and waiting,
the results are all that were hoped for!
Taken from the original pencil drawing by Mary Haggard,
this edition of black and white inkjet prints, is limited to 350 signed and numbered by the artist.
Each is printed on medium weight acid-free watercolor paper. This print fits perfectly into a standard 11" x 14" mat.
$15.00 plus $5.00 shipping
add to cart
So sorry! Due to technical difficulties, this print is not available at this time. Hopefully it will be in the near future! I truly apologize for any inconvenience!